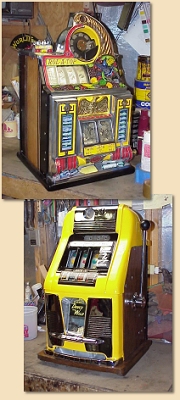 My name is Richard Bright and I have been restoring antique slot machines for over 35 years, you could say I have repaired or restored at least 500 antique slot machines in my lifetime. As a Professional Firefighter " Lieutenant" now "Retired", I work twenty-four hour shifts, which has given me plenty of time to devote to restoring and repairing antique slot machines. Whether it is small repairs or full restorations, no job is too big or too small. I have traveled all around the country in order to buy, repair or sell my antique slot machines. This business is set around a very small circle of qualified people to do this kind of work. I feel if you treat the customer right and gain their confidence by doing good work, they will be a return customer in the future. The slot machines we restore are restored the right way to the customer specifications, the first time. When a customer purchases a slot machine from me, I offer lifetime guarantee, as long as you own the slot machine, providing you bring it to me for repairs. There are not too many people in this business that will make an offer like that and actually stand by it. We have a large inventory of parts for antique slot machines. In the case of repairs and restorations, there is a 99% chance the part will be replaced with an original part, instead of a reproduction. Machines weigh any where from 75-90 pounds, measurements 16"X16"X 28" height. There is a 10% restocking fee on all returns.

We will offer assistance any time you need it, just by picking up the phone or through e-mail, whatever is easiest for the customer.

Due to laws regulating the sale of antique slot machines Bright's Antique Slot Machine Restorations will not sell to individuals located in the following states: Alabama, Connecticut, Hawaii, Indiana, Nebraska, South Carolina, and Tennessee.
Last Updated: 10-23-2023
| | | |
| --- | --- | --- |
| | Featured Items | |